Initially a media, printing, and advertising company. Through market and customer research, we understand the needs, challenges, and difficulties of the agri-food industry in Vietnam and the world market.
In 2012, the Company invested in and traded in Vietnam's strong agricultural and food products. Initially, the company wholesaled cashew nuts. From 2014 to 2016, the Company distributed food and processed agricultural products.
From 2017 until now, the Company has established a factory to process many kinds of agricultural products and quality food. Officially launched O'CASSO brand – trademark protected exclusively by Nine Stars Co., Ltd.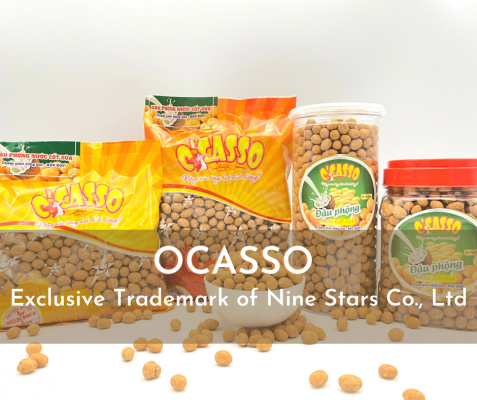 Our salted cashew nuts and roasted edamame beans under the Ocasso brand are trustworthy and high-quality products, evaluated by over 800,000 customers who have tried them out in restaurants and eateries in Bien Hoa and Ho Chi Minh City over the past 16 months.
We understand that agricultural products are crucial sources of natural nutrients for human health. Therefore, selecting clean and safe raw materials is our top priority in processing.
Our production and business activities aim at the highest goals of promoting human health, community benefits, and sustainable development.
Ocasso products have met customers' expectations regarding quality and pricing, and we will continue to provide customers with natural and nutritious roasted and dried products as essential daily snacks. Equipped with modern facilities, production workshops, and processes that meet the requirements for domestic and export markets such as Asia, the Middle East, and Russia, Ocasso products are now available on various online platforms, including our website at www.ocasso.com and our app "Ocasso Nut." Additionally, we also distribute our products on well-known e-commerce sites like Tiki, Lazada, Shopee, and Sendo.
The company advocates building production and serving customers based on the following criteria: Prestige – Quality – Commitment. Products distributed in the market are of clear origin, transparent documents, and directly without intermediaries.