How to make cashew milk at home?
Cashew milk is not only delicious and nutritious but can be combined with many foods to create different flavors and colors. Some ways to cook cashew milk that mothers often apply are combining cashews with pumpkin, oats, and almonds … because of its delicious taste, ease of drinking, and being especially suitable for young children. So let's learn how to make cashew milk according to a simple and quick recipe for the family to enjoy!
Nutrition benefits of cashew milk
Cashew nuts not only have a delicious fatty taste but are also rich in lutein, magnesium, phosphorus, vitamin K, calcium, and antioxidants… creating a delicious and nutritious drink with many great health benefits such as:
Maintaining a stable weight

Good for the heart and reduce bad cholesterol in the body

Maintaining healthy skin, teeth, and bones

Prevent cancer, and gallstones effectively

Nourish the eye and improve eyesight
Should cashew milk be made fresh or roasted?
Make Milk From Fresh Cashew Nuts
In order for cashew milk to achieve the most delicious taste, you should choose fresh cashews for processing. Using fresh cashews, you need to pay attention to the preservation of cashew nuts.
Making milk from fresh cashews has the advantage of having a fresh taste, hand-processed fresh cashews will be more reassuring. The fewer processing steps the cashew nut has, the more moisture and natural fat it retains. However, making milk from this seed takes a lot of time at the preliminary stage, and also has to cook the milk. But not everyone can buy fresh cashews, so making milk from roasted or dried cashews can still be done.
Make milk from roasted cashews
Fresh cashews are cheaper than roasted and dried cashews, but their popularity is not equal to these two types. So if you want to make roasted cashew milk, it's still easier. You buy roasted cashews, and dried cashews for snacks, if you have leftovers, you can process milk for more nutrition, which is also very convenient.
However, the roasted and dried cashews here are pure taste, if using salted roasted cashews, it will spoil the milk. It can be handled manually by soaking the seeds until soft and removing all the salt, then steaming and making milk.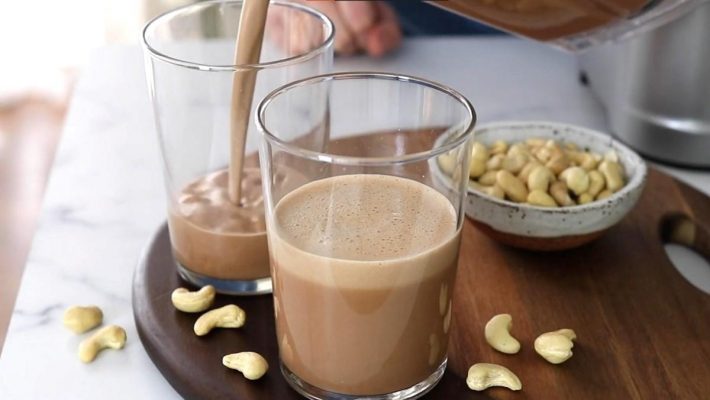 Read more: 7 tips to remember, for selecting quality nuts
How to make simple and delicious cashew milk at home
Prepare:
1000 ml of water

100g fresh cashews

50g organic oats

1 bottle of Vanilla
Processing:
Step 1: Soak cashews for about 2 hours, and oats for at least 1 hour, then remove and drain. Note: Soak with boiled water to cool and store in the refrigerator, absolutely not soak outside because it is easy to be infected, and not safe.

Step 2: Put two types of seeds in the blender, then use 1 liter of hot water about 50 – 60°C to pour in, add 3-4 drops of vanilla, and grind until the mixture is smooth. If you use boiling water at 100 degrees, the oats will be mushy.

Step 3: You proceed to filter through a sieve so that when you drink it, it will not be lumpy or keep it if you like the natural flavor from the seed residue. Oat milk can be used hot or stored in the refrigerator for 1-3 days.
Prepare:
50g fresh cashews

50g pumpkin

Natural sweetener

1.2 liters of filtered water
Processing: 
Step 1: Cashew nuts and pumpkin (peeled, chopped) washed and drained.

Step 2: Put cashews, pumpkin, water into the blender and filter the milk residue.

Step 3: Cook milk on medium heat, then add sweetener and cook for about 10 minutes. Wait for the milk to cool, then pour it into a jar, keep it in the fridge and enjoy.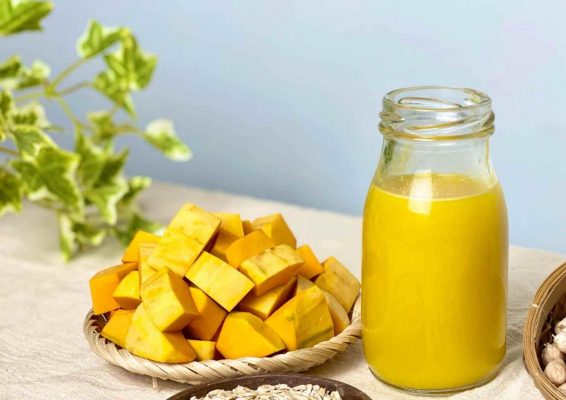 Prepare: 
Cashew nuts 100gr

Almond 150g
Dates are 10
Vanilla and honey 1 teaspoon each
1.5 liter filtered water
Processing:

Step 1: Cashews and almonds are soaked for 3 hours. Then rinse with water.

Step 2: Add cashews and almonds to the blender, and continue to add seeded dates, vanilla, honey, and 1.5 liters of filtered water.

Step 3: After the mixture is finished grinding, put it in a filter cloth bag, and squeeze it vigorously to remove the residue.

Step 4: Put the almond milk in a jar and store it in the refrigerator. It is recommended to use 2 days to ensure the quality of milk.
Cashew milk – walnuts
Prepare: 
40g walnuts

50g fresh cashews

Vanilla Natural sweetener

1.2 liters of water
Processing:
Step 1: Peel the walnuts to get the kernel. Soak walnut kernels in warm water for about 30 minutes to separate the thin film on the outside of the kernel.

Step 2: Wash walnuts and cashews with water to dry. Add the seeds and water and blend until smooth.

Step 3: Cook milk on low heat and add sweetener and cook for about 10 minutes. When the heat is almost off, add the vanilla.

Step 4: Let the milk cool and then put it in a jar, keep it in the fridge, and enjoy.
Who should use cashew milk?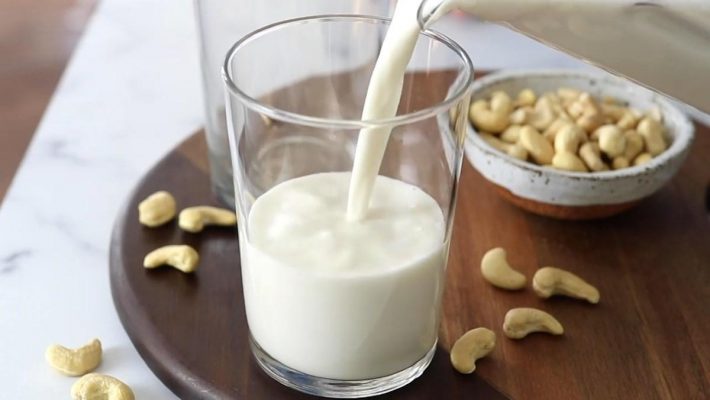 Cashew milk is such a delicious and nutritious drink, so who should drink a lot of cashew milk?
Children start solid foods from 6 months of age and up. When making cashew milk for your baby, you should steam the cashews, not soak them.

Pregnant women, young people, and men are all suitable.

Elderly people with high blood pressure, diabetes, calcium deficiency, cardiovascular disease

People who are just getting sick will have difficulty digesting cow's milk if they use cow's milk, so cashew milk is a perfect choice

Subject cannot drink cow's milk
Hopefully, with the above sharing, you will be successful with how to make nutritious cashew milk for the family to enjoy. However, to ensure safety for health, this type of nut milk should not be used daily to avoid unwanted side effects.